FAQs
Have questions? We have answers!
How do I get tickets?
You can reserve your tickets by purchasing them here online, over the phone by calling (817)338-4411, or by visiting our box office at 506 Main Street in downtown Fort Worth. Box office hours are Tuesday through Friday from 12:00 noon to 5:00 p.m. However, when there is not a show 12p - 5pm Tues - Thurs, 12p - 4pm on Fridays. Closed Saturday, Sundays, and always closed on Mondays. For more information on prices, performance times, ticketing policies, and special s visit our Ticket Information page.
The Show I want to attend is Sold Out, what can I do?
Waitlist. Waitlisting is offered for sold out performances on the same day. Must be present to get on the wait list.
Any tickets not claimed 5 minutes before the curtain, are released to those on the waitlist. First signed up, first served. Early booking is encouraged, especially for the musicals at Jubilee Theatre!
What forms of payments are accepted?
We accept Credit cards, (Visa, Mastercard, American Express, and Discover), cash, checks, cashier's checks, and debit cards with a Visa or Mastercard logo. However, Vendini does not accept gift cards, even if they do have a Visa or Mastercard logo, reloadable gift cards are not accepted as form of payment.
Can I reserve specific seats?
Yes! The new and improved box office allows patrons to pick their seats from the website. Buy and print your tickets online 24 hours a day, or call the box office at (817)338-4411 to reserve your tickets. (Credit Card required)
What time are the performances?
Unless otherwise stated, Thursday Evenings at 7:30pm, Friday and Saturday evening performances begin promptly at 8:00pm and matinees on Saturdays and Sundays begin at 3:00pm. We prefer to begin at the top of the hour, please be on time, there is no late seating.
Where is the theatre located?
Jubilee Theatre is located at 506 Main Street in downtown Fort Worth, Texas. We are in the Sundance Square entertainment district between 4th and 5th Streets.
What is appropriate to wear to the theatre?
Jubilee is a diverse experience. You will see everything from jeans and t-shirts to dresses and suits at a Jubilee performance. Please wear whatever makes you the most comfortable.
Where is the seating chart?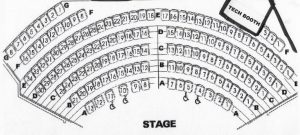 I am trying to book online, but I can't book a seat selection, what's wrong?
In order to book your seat assignments you must have a Flash player. If you do not have one, the Vendini ticketing system will select best available seats. Remember, all ticket sales are final. Change of seats may be available on day of performance, see Box office staff, no guarantees.
Where do I park downtown?
Downtown meters and parking garages are free on evenings, after 6:00 PM, and on weekends. The closest parking garage to Jubilee Theatre is located at 101 Calhoun Street (3rd and Calhoun).
For more information about parking lots downtown, visit this link.
Can you recommend a place to eat downtown?
There are many wonderful restaurants (and shopping) in downtown Fort Worth, and some are located on the same block as Jubilee. We do recommend that you park downtown, and make your way to the new iFortWorth. iFortWorth is Fort Worth's newest visitor information center, and it is located right next door to Jubilee Theatre! For immediate information on downtown, visit this link. Restaurants downtown can get crowded early, so be sure to give yourself plenty of time for parking and dining. You can download the Sundance Square App for additional information in downtown Fort Worth, only compatible with iPhone users.
How do I get on the wait list?
The wait list begins when the doors open, one hour prior to curtain- 2pm for matinees, 7pm for evenings. Unclaimed season subscriber reservations and comp tickets may be released at the door 15 minutes prior to curtain. The average amount of wait list patrons to successfully get tickets is six per performance.
How do I contact a person?
Call the box office at (817)338-4411, 12pm-5pm Tuesday- Friday. If there is no answer, leave us a voice mail. All messages will be returned in one business day.
To reach the Administrative Offices, open Mon-Fri 9am-5pm, please call (817)338-4204.
Why can't I purchase tickets online?
1) Not all s are available for purchase online. Please check show details for restrictions regarding online availability
2) The show date may have recently sold out. Call the box office or check the show calendar for date availability.
3) General sales may not have began. Season Subscribers and large groups (20+) may be eligible for early reservations.
4) You may need to update your browser to the most current settings, or download Adobe Flash Player. IF you do not have a flash player, the website will select seats for you.
If you still have trouble, please contact the box office, leave a detailed message, and some one will contact you.
Can I get a refund if I'm not able to make it to the performance?
No, all sales are final. On the performance date, if you no-show your performance, tickets will be released for resale, to patrons on waiting list. For shows with sold out houses, tickets are released 5 minutes before curtain. No exceptions.
When online booking a reservation, will the Box Office see anything different?
No, our seating chart is presented in "real-time", meaning, what you see is the same as the Box Office staff sees. With this capability, there is no guessing about seat availibility. If you are not able to see the performance date listed on the Show page, it is likely sold out. We remove the performance date from the list, once the it is sold out.
What are Preview Performances?
Previews are the first 5 performances that take place before a live audience. These preview performances lead-up to the official opening night of each production and are used to "fine-tune" the aspects of lighting, sound and actor performance. Even though this "fine-tuning" goes virtually un-noticed by the audience, these performances are bargain priced as the least expensive ticket available.